We remember and are grateful to the people who contributed to the creation and development of Uralkali. We provide support to veterans of the Company and the Second World War: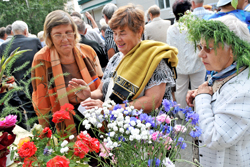 Quarterly grants depending on the length of their employment with the Company;
Payment for stays at a Company health resort;
Organisation of celebrations for the veterans of the Second World War;
House renovations for those involved in the war, both in combat and on the home front.
The "Attention and Care" programme for retired Uralkali employees. Financial and organisational support to veterans and activities of the Veterans' Council are among the important areas of Uralkali's social policy. Over the last three years, the amount of financial support was increased to RUB 50.5 million.