Historically exports account for the majority of the Company's output. Its key markets are: Brazil, India, China, Southeast Asia, Russia, the US and Europe. Those are regions with high growth rates both in population and income, which drive demand for potash fertiliser.
Uralkali sells its products internationally through Uralkali Trading SIA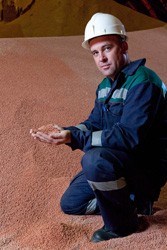 Uralkali has a number of strengths and opportunities:
ensuring long-term price stability
increasing the share of supplies in the fast-growing BRIC markets
raising cost efficiency
increasing the profitability of supplies due to geographical synergies.
Uralkali exports the following products:
Pink Granular MOP
Pink Standard MOP
White Fine MOP
White Standard MOP