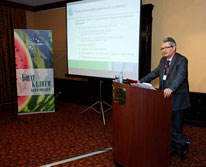 As a world leader of MOP (muriate of potash, potassium chloride) production and sales, we carry out educational activities around the globe, telling about the positive aspects and profitability of potassium chloride application.
Our company regularly participates in various industry events, collaborating with leading agricultural experts, international research institutes and progressive agricultural organisations.
Interactive illustrated potash encyclopedia (www.infopotash.com), developed by Uralkali, contains information about the impact of potassium on plants and human body, MOP production, the use of potassium fertilisers in agriculture, and more.
Uralkali's educational programmes cover topics such as the benefits of potash, the world potash market, advanced fertiliser techniques, and agronomics.
Uralkali is a member of the following organisations:
| | | |
| --- | --- | --- |
| | | |
| IFA is a global organisation, representing the global fertiliser industry on issues related to improvement of the operating environment of the member companies and the collection of industry information. | The Fertilizer Institute (TFI) is the national trade association representing all segments of the U.S. fertiliser industry. | RAPU is a Russian association, established by the major local fertiliser producers. With the aim of developing Russian fertiliser industry, the association coordinates and assists its members in business development and interaction with international and local fertiliser producers and consumers. |