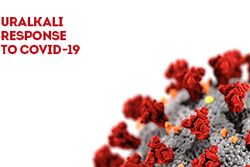 Uralkali (the Company), one of the world's largest potash producers, continues to implement a set of measures to protect its employees against possible COVID-19 infection.
The health of Uralkali's employees is the Company's first priority. In strict compliance with the requirements of federal and regional executive bodies and the guidelines put in place by supervisory organizations, Uralkali Group carries out a number of preventative measures at its production and office facilities to minimize the risk of infection and spreading of the virus among its employees:
The Group has established a dedicated corporate Commission to analyze the evolving situation and keep Group personnel informed of any updates
The Group employees who are not directly involved in supporting continuous production processes are partially transferred from office to remote work
The internal and external documentation procedures are carried out electronically
The Company performs mandatory disinfection of its premises and corporate vehicles
The Group companies have all been supplied with hand sanitizers and the temperatures of employees engaged in supporting the Group's production processes are taken on a daily basis. Also, fully equipped vaccination stations have been opened at all the Company's production sites
Employees involved in continuous production operations are being provided with protective masks and other personal protective equipment
The Company has opened a hotline for the Group employee enquiries related to coronavirus symptoms, rules of self-isolation, as well as the details of social programmes implemented during the current period
The Company provides targeted support to healthcare facilities of Berezniki and Solikamsk for purchase of medical equipment in order to prevent a spread of coronavirus infection
Uralkali Group employees are kept regularly informed about measures aimed at preventing the infection and combatting the spread of COVID-19 and about the necessity and benefits of vaccination through visual propaganda, corporate portal and broadcast channel, as well as Uralkali's mobile app and social media channels.
This information will be updated on the corporate website of Uralkali in real time, as long as the situation evolves.
Uralkali (www.uralkali.com) is one of the world's largest potash producers and exporters. The Company's assets consist of 5 mines and 7 ore treatment plants in the towns of Berezniki and Solikamsk (Perm Region, Russia). Uralkali employs more than 12,000 people in the main production unit.