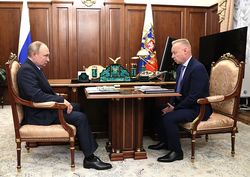 Russian President Vladimir Putin held a working meeting with Dmitry Mazepin, CEO of Uralchem and Deputy Chairman of the Board of Uralkali.
The meeting mainly covered around the current condition and development prospects of the national and global mineral fertilizer industry, as well as operating activities of both Uralkali and Uralchem.
Dmitry Mazepin informed President Putin about the current situation in Uralchem's and Uralkali's key consumption markets including Africa. He also described two companies' support to Russian agricultural producers, financial performance, investment projects and corporate social responsibility initiatives.
Dmitry Mazepin, CEO of Uralchem and Deputy Chairman of the Board of Uralkali, commented:
Being among industry leaders both companies place significant importance to the development of their operating regions and to the implementation of federal social projects including relocation of residents of Berezniki and construction of infrastructure facilities as part of the Sirius project.
On behalf of the two companies, I would like to thank the President and the Government of the Russian Federation for their support and understanding of specifics of the chemical sector, which is undoubtedly a key factor for the development of agriculture both in Russia and abroad.
JSC Uralchem is one of the largest producers of nitrogen and phosphate fertilizers in Russia and the CIS with production capacities of over 3 million tonnes of ammonia, 3 million tonnes of ammonium nitrate and its derivatives, 1.2 million tonnes of urea and 1 million tonnes of phosphate and complex fertilizers per year. JSC Uralchem is the largest ammonium nitrate producer and one of the top in ammonia, urea and nitrogen fertilizers production in Russia. Key production assets of JSC Uralchem include Azot Branch of JSC Uralchem in Berezniki, Perm Region; JSC Mineral Fertilizers, Perm; KCKK branch of JSC URALCHEM in Kirovo-Chepetsk, Kirov Region; JSC Voskresensk Mineral Fertilizers in Voskresensk, Moscow Region.
Uralkali (www.uralkali.com) is one of the world's largest potash producers and exporters. The Company's assets consist of 5 mines and 7 ore treatment plants in the towns of Berezniki and Solikamsk (Perm Region, Russia). Uralkali Group employs more than 21,000 people.