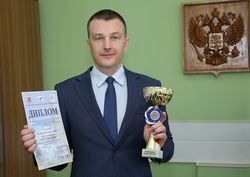 Uralkali (the Company) received the "Most Energy Efficient Company in the Western Urals 2021" award. In the same contest, Alexey Ryumkin, Uralkali Chief Power Engineer, was recognised as the "Best Power Engineer in the Western Urals 2021".
Competing were regional initiatives from industrial companies to reduce energy intensity, save energy resources, improve energy efficiency and introduce digital technologies, as well as industry-specific environmental projects.
The contest was organised by the Western Urals Association of Power Engineers with support from the Perm Regional Ministry of Industry and Trade.
Alexey Ryumkin, Uralkali Chief Power Engineer, commented:
Uralkali continues a successful implementation of its energy saving and efficiency programme, which runs from 2019 until 2023. Optimising energy consumption at our sites reduces the Company's environmental impact and facilitates efficient utilisation of fuel and energy resources. In 2021, the Company invested over RUB 165 million in the programme.
Uralkali (www.uralkali.com) is one of the world's largest potash producers and exporters. The Company's assets consist of 5 mines and 7 ore treatment plants in the towns of Berezniki and Solikamsk (Perm Region, Russia). Uralkali employs more than 12,000 people in the main production unit.