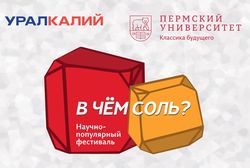 Uralkali (the Company) became the partner of a popular science festival dubbed "Better Call Salt" to be held on 20-25 May 2022 at the Perm State National Research University (Perm, Russia).
Participants of the festival will be able to attend popular science lectures telling about how salt became the basis for the development of Russia's Perm Region. The local Museum of Mineralogy will host Uralkali's exhibition featuring unique rock samples from the Verkhnekamskoye deposit of potassium and magnesium salts. Also, students from the Ural branch of the Russian Academy of Painting, Sculpture and Architecture will be given an opportunity to perform creativity projects at a specially created sylvinite sculpture art zone.
The programme of the festival also includes a job fair, where Uralkali's specialists will describe interesting jobs offered by the Company, explain production processes, and tell about benefits and prospects associated with working in Uralkali. This should help students learn more about the actual production environment and boost their knowledge and skills.
Irina Konstantinova, Uralkali Head of HR and Communications, commented:
Our cooperation with the Perm State National Research University is very important as it helps train qualified specialists for potash production. Uralkali's participation in this festival is a great opportunity to become closer and more relatable to today's and future students, and to tell them about ourselves and the opportunities we can create for them to enhance their interest in the technologies and innovations used in the potash industry.
Pavel Krasilnikov, Head of Department of Geology at the Perm State National Research University, commented:
We are grateful to Uralkali for this experience in collaborative scientific creativity. We are keen to further expand this cooperation in new research and projects so that we could continue developing the Perm Region together.
Uralkali (www.uralkali.com) is one of the world's largest potash producers and exporters. The Company's assets consist of 5 mines and 7 ore treatment plants in the towns of Berezniki and Solikamsk (Perm Region, Russia). Uralkali employs more than 12,000 people in the main production unit.