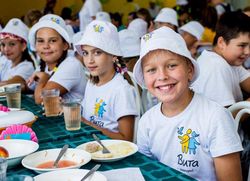 Today marks the beginning of a health and wellness campaign for children of Uralkali Group employees traditionally held every summer. This season children will be going to the Uralskiye Samotsvety health camp outside of Solikamsk in Perm Region (Russia), the Vita seaside health camp in Anapa, Krasnodar Region (Russia), and the Friendship municipal health centre near Berezniki in Perm Region (Russia).
Over the course of this summer, the Uralskiye Samotsvety is expected to accommodate 1088 children aged 7 to 12, who will come in four 21-day shifts. The camp is located in a pine forest near Solikamsk. The children will be staying in four-bed rooms and will be offered five meals a day, an indoor swimming pool, activity clubs, playgrounds and sports areas.
The Vita camp will be attended by 824 children aged 9 to 15, also in four 21-day shifts. The Friendship health centre will host three shifts for 270 children aged 7-15.
Employees of Uralkali Group only pay up to 10% of the cost, with the rest paid by Uralkali as part of its benefit programme.
Irina Konstantinova, Uralkali Head of HR and Communications, commented:
Summer health and wellness programmes for our children are among the key elements of Uralkali's social policy. They are also a highly valued part of the corporate benefit package. This year, over RUB 113 million will be allocated for financing of this summer campaign.
Uralkali (www.uralkali.com) is one of the world's largest potash producers and exporters. The Company's assets consist of 5 mines and 7 ore treatment plants in the towns of Berezniki and Solikamsk (Perm Region, Russia). Uralkali employs more than 12,000 people in the main production unit.