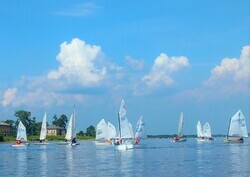 In the coming days Berezniki will be hosting the Stroganov Regatta, an inter-regional sailing competition for young athletes. The event is supported by Uralkali and will take place at the city's Kamskiye Zalivy beach on 25-26 June 2022. The race is open for participants aged 8-15 who will be competing in the Optimist, Ray, Ray Mini and Cadet class yachts. This year, competitors represented by boys and girls from sailing schools from Perm Region, Votkinsk (Udmurtia Republic) and Nizhny Tagil (Sverdlovsk Region) will take part in the races which will follow international sailing rules.
In each class, races will run over specific distances. There will be a loop-shaped track for the Optimist class yachts dinghies and a triangular track for the Cadet ones, while athletes sailing their Rays and Ray Minis will have to demonstrate their excellence in triangle and loop elements.
The races are part of the selection process for the Perm regional team to compete at the federal level.
Evgeny Zybin, Uralkali Production Director, commented:
Uralkali is a traditional supporter of professional and mass sports in Berezniki and Solikamsk. The Stroganov Regatta is a major sport project, which is always popular with residents and visitors of the Verkhnekamye and which attracts a lot of young people from all over Russia who are keen of sailing sports. In addition to this boat race, Uralkali also supports other events like the Chimes of Russia international festival, the Stroganov Mile snowkiting championship, and other socially important activities.
Uralkali (www.uralkali.com) is one of the world's largest potash producers and exporters. The Company's assets consist of 5 mines and 7 ore treatment plants in the towns of Berezniki and Solikamsk (Perm Region, Russia). Uralkali employs more than 12,000 people in the main production unit.