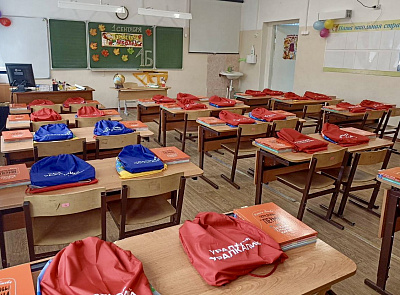 In anticipation of the new academic year, Uralkali allocated around RUB 1.5 million for Knowledge Day presents for the future first grade students in Berezniki and Solikamsk. In total, 3,280 children received gift packs, each with a new school bag and a creativity kit.
Uralkali also hosted several interactive shows for the first-graders of its employees and distributed 800 vouchers for stationery and sweets.
Support of children starting primary school is a long-standing tradition in Uralkali. Since 2020, the Company has contributed over RUB 9 million to this good cause.
Irina Konstantinova, Uralkali Deputy CEO — Director of HR and Communications:
The Knowledge Day is a highly positive and emotional moment for all first-graders and their parents. It is very important that they remember this day for the rest of their lives. Support of children is an important part of Uralkali social policy. It has become a tradition in the Company to give presents to the school starters in Berezniki and Solikamsk and arrange festive events for employees' children.
Uralkali (www.uralkali.com) is one of the world's largest potash producers and exporters. The Company's assets consist of 5 mines and 7 ore treatment plants in the towns of Berezniki and Solikamsk (Perm Region, Russia). Uralkali employs more than 13,300 people in the main production unit.