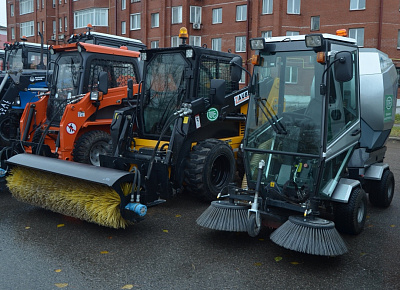 Uralkali donated three units of new municipal special purpose machinery worth about RUB 19 million to Solikamsk, comprising a mini loader with attachments, a front loader and a vacuum cleaning machine. A drilling and milling machine, a lathe and screw-cutting machine, a crimping press, as well as tire fitting equipment for trucks were transferred for maintenance of the equipment.
The new special equipment will make it possible to perform works related to the maintenance of roads and sidewalks in Solikamsk during summer and winter periods.
In 2022, Uralkali allocated more than RUB 11 million to purchase a Belarus tractor and its attachments, a Termit-1000 mini loader, UAZ vehicles, snow blowers, brushcutters and lawn mowers for the needs of Solikamsk.
Evgeny Samoukov, Head of Solikamsk:
The territory improvement issues always deserve special attention, and Uralkali, being our reliable social partner, helps us solve them. With the Company's assistance we were able to create our own resource for maintaining cleanliness in Solikamsk.
Eduard Avetisyan, Uralkali Deputy Director for Government Relations:
It is very important for Uralkali that its employees live in clean, well-maintained cities. Therefore, the Company supports the efforts of the authorities to create a comfortable, favorable and environmentally friendly urban environment. The investments in the purchase of special equipment in 2022-2023 amounted to about RUB 30 million. We understand that only through joint efforts can we make our streets, parks and public gardens more comfortable and landscaped for the benefit of all residents.
Uralkali (www.uralkali.com) is one of the world's largest potash producers and exporters. The Company's assets consist of 5 mines and 7 ore treatment plants in the towns of Berezniki and Solikamsk (Perm Region, Russia). Uralkali employs more than 13,300 people in the main production unit.