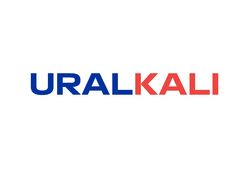 Uralkali (the Company), one of the world's largest potash producers, today published its 2021 IFRS financial statements1, which were audited by AO Deloitte & Touche CIS and approved by the Company's Board of Directors.
FY 2021 FINANCIAL HIGHLIGHTS:
Revenue up 54% y-o-y to US$ 4,155 million
Net revenue2 up 62% y-o-y to US$ 3,480 million
EBITDA3 up 109% y-o-y to US$ 2,556 million
Cash COGS4 is US$ 37.5 per tonne
Average FCA export price up 80% y-o-y to US$ 299 per tonne of potassium chloride (KCl)
FY 2021 OPERATIONAL HIGHLIGHTS:
Production: 12.3 million tonnes of KCl
Sales: 12.0 million tonnes of KCl
FY 2021 CORPORATE HIGHLIGHTS:
In June, Uralkali for the first time in its history and the first among producers of mineral fertilizers in Central and Eastern Europe signed a sustainability-linked syndicated loan agreement with 18 banks for US$ 1,250 million, the largest syndicated facility in Russia and CIS
In December, Uralkali's EGM voted to pay dividends on outstanding preferred shares based on the 9M 2021 results and not to pay dividends on the outstanding ordinary shares
Vitaly Lauk, Uralkali CEO, commented:
The global potash market enjoyed favourable conditions during the reporting period, which had a positive impact on Uralkali's key operating results.
Flexibility of our sales ensured an optimal and balanced production volume in 2021 amid a general increase in potash prices and its limited supply.
Uralkali Group continues its normal operations and is closely monitoring the current geopolitical situation. We will do everything in our powers to maintain efficient cooperation with all our stakeholders.
The key figures are as follows:



2021

2020

Revenue (US$ million)

4,155

2,696

Net revenue (US$ million)

3,480

2,151

EBITDA (US$ million)

2,556

1,222

Foreign exchange differences and fair value gains / (losses) on derivative financial instruments (US$ million)

93

(733)

Net profit / (loss) (US$ million)

1,767

(43)

Average export potash price, FCA, (US$)

299

166

Production (KCl, million tonnes)

12.3

11.3

Sales volume (KCl, million tonnes)

— TOTAL

— Domestic

— Export




12.0

2.9

9.1




12.7

2.6

10.1
Financial review
In 2021, the Company's net profit amounted to US$ 1,767 million, compared to a net loss a year earlier, mainly due to higher operating profits, positive foreign exchange differences and fair value gains on derivatives.
Uralkali's cash COGS (excluding for the goods for resale) was down 8% year-on-year to US$ 37.5 per tonne amid higher production volumes and depreciation of the Russian rouble.
In 2021, the average export potash price on FCA basis went up 80% year-on-year to US$ 299 per tonne due to price increase in key consumption markets.
As at 31 December 2021, Uralkali's net debt amounted to US$ 4,372 million.
As at 31 December 2021, the net debt/EBITDA ratio was to 1.71x, while the average interest rate for the Company's loan portfolio in 2021 was 2.78% in US$ and 1.69% in Euro.
Operational review
Uralkali is progressing with its investment programme aimed at increasing production capacity, with the following key projects:
Construction of the Ust-Yayva mine, with the construction of surface facilities and mine development underway
Construction of the new Solikamsk-2 mine, where shaft sinking and construction of surface facilities continues
Expansion of Solikamsk-3, with ongoing construction of surface and underground facilities along with completion of deepening works in mine shaft 4
Construction of the Polovodovsky potash plant with site preparation works
The Company continues to construct mine panels, develop stowage facilities, replace and upgrade mining equipment in line with the schedule.
Market overview5
There were generally favourable conditions in the global potash market during 2021, characterized by a high volume of global deliveries and a steady upward trend in potash prices. Potassium chloride prices were impacted by many factors, including limited potash supply in the global market, sharp increase in crop prices, significant reduction in MOP inventories in several countries, and market uncertainties due to sanctions imposed against Belarus.
In 2021, Brazil was the most active spot market: potash imports at the end of the year broke another record and exceeded 12.7 million tonnes, according to customs statistics, which became possible due to the world crop prices growth, in particular soybeans.
Demand for potash in North America increased year-on-year on the back of favourable weather conditions in the first half of the year, growing acreage, strong demand during the autumn application season, and favourable prices for grain crops.
In the CIS countries, the Middle East and Africa demand for potash was generally stable in 2021. However, in Europe it was influenced by a significant increase in natural gas prices, which limited the demand for potash from NPK producers.
During 2021, against the backdrop of a significant increase in palm oil prices, there was a recovery in potassium chloride demand from its largest consumers in South-East Asia — Indonesia and Malaysia, despite the current restrictions on attracting labour to plantations due to COVID-19.
Due to low contract prices for the supply of potassium chloride to China and India, a number of producers reduced their supply volumes, which led to a sharp decrease in potash import volumes in 2021 compared to the previous year.
The volume of sales of potassium chloride of Uralkali production to the Russian domestic market in 2021 amounted to 2.9 million tonnes, which is 11% higher than in 2020, mainly due to increased sales to NPK producers and the agricultural sector.
According to the Company's estimates, in 2021 the volume of world potassium chloride deliveries amounted to about 71 million tonnes. It is expected to be around 68-71 million tonnes by the end of 2022, amid high prices and limited supply of potash in the world market.
Uralkali (www.uralkali.com) is one of the world's largest potash producers and exporters. The Company's assets consist of 5 mines and 7 ore treatment plants in the towns of Berezniki and Solikamsk (Perm Region, Russia). Uralkali employs more than 13,300 people in the main production unit.
---
1 The audited consolidated financial statements may be found on Uralkali's website
http://www.uralkali.com/investors/reporting_and_disclosure/uk_msfo/
2 Net Revenue is revenue net of freight, railway tariff, rental of railway cars and transshipment cost
3 Adjusted EBITDA is calculated as Operating Profit adjusted for depreciation of property, plant and equipment and right-of-use assets, amortisation of intangible assets, impairment and gain/(loss) on disposal of non-current assets, unplanned contributions and social expenses as well as expenses related to COVID-19 response measures
4 Excluding goods for resale
5 Sources: Uralkali's estimates, the IFA data, customs statistics, financial statements of potash producers