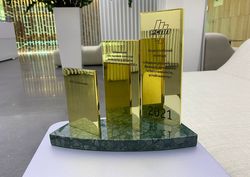 Uralkali (the Company), one of the world's largest potash producers, became the winner of the ESG Reporting Quality category in the Leaders of the Russian Business: Dynamics, Responsibility, Sustainability — 2021 contest hosted by the Russian Union of Industrialists and Entrepreneurs (RSPP).
This annual contest aims to support a sustainable development of business that reflects long-term economic interests of the Russian Federation and to identify rapid development companies based on their economic, social and environmental performance.
Uralkali has been publishing ESG reports since 2020. The Company also adopted the ESG Strategy until 2025, which is underpinned by 10 key sustainability topics including human rights, environmental protection, corporate governance, climate change, sustainable agriculture, and supply chains.
Elena Eskina, Uralkali Sustainability Director, commented:
Our victory in this contest is the result of Uralkali's comprehensive sustainability efforts and the imperative inclusion of ESG principles in all aspects of our operations.
Uralkali (www.uralkali.com) is one of the world's largest potash producers and exporters. The Company's assets consist of 5 mines and 7 ore treatment plants in the towns of Berezniki and Solikamsk (Perm Region, Russia). Uralkali employs more than 13,300 people in the main production unit.