Climate change is one of the most pressing problems the world is facing today. Increasing GHG emissions has had a profound effect on the natural greenhouse effect, resulting in an increase in average global temperatures on the planet. Beyond the environmental impacts that are already being felt, it is widely accepted that this will in the long term have significant global socio-economic consequences.
Uralkali acknowledges the importance of the problem and makes every effort to contribute to tackling climate change.
GHG emissions
Over the past few years, the Company has managed to consistently lower its GHG emissions intensity while increasing production. In 2023, the Company continued systematic work to assess greenhouse gas emissions (Scope 1-3), as well as the carbon footprint of products.
The results showed that, given its specific production processes, the potash industry is characterised by a low carbon footprint compared to other types of fertilisers and a range of different products from the broader natural resources extractive industry.
Results of GHG emissions quantitative assessment in 2021
Results of GHG emissions quantitative assessment in 2020
Climate Strategy
Uralkali's Climate Strategy contains quantitative GHG emissions reduction targets:
A 10% reduction in GHG emissions by 2025, and 20% by 2030.

An increase in the share of green electricity energy in total energy consumption to 20% by 2025 and to 45% by 2030.

Achieve carbon neutrality by 2050
The strategy outlines seven priority areas aimed at reaching these goals: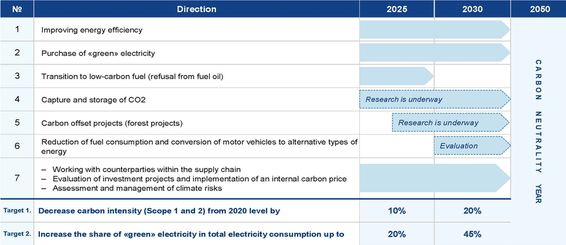 In the short and medium-term, the Company will direct its efforts at increasing the energy efficiency of its production and infrastructure assets, transitioning to low-carbon fuel types, including moving away from using fuel oil.
Uralkali has planned and already partially launched a range of research and development projects and pilot projects in the following areas: reduction of fuel consumption, conversion of automotive vehicles to alternative types of energy.
The preliminary amount of investment required to reach the Company's climate goals by 2030 is estimated at US$ 50-100 million.