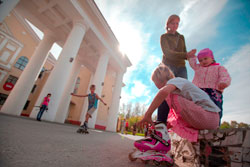 Any company is a part of society and cannot exist in isolation from its rules, needs and realities. This relationship involves not only legal considerations regarding industrial activities, but the whole of the communications network between the Company and local communities.
For a company as large as Uralkali this relationship is particularly tight and important, as our production employs a high number of people from Berezniki and Solikamsk. We understand that all of our social projects, whether infrastructure, sports, environmental or cultural and entertainment projects, first and foremost improve the standard of living of our employees, their families and friends.
Therefore, Uralkali takes a very active part in the life of the towns where it operates by investing in education, culture, healthcare and general administrative urban development.
Taking into account the key principles of sustainable development, Uralkali regards its involvement in the social development of the regions where it operates as vital to the successful growth of the business.
In all its activities, the Company aims to strike a balance between its own interests, those of its employees and the broader stakeholder universe.
Socio-economic development in the regions where Uralkali operates
Provision of comfortable and safe living conditions
Social partnership, trust and efficient dialogue with local communities and authorities
The volume of social investments of the Company amounted to more than 1 billion rubles
Co-financing of activities within the framework of the Program for the resettlement of citizens in the city of Berezniki continues
Implementation of the project for the development of youth basketball in the cities of Berezniki and Solikamsk continues
A project is being implemented in Berezniki and Solikamsk recreation areas, which include sports workout platforms and childrenĺs play complexes