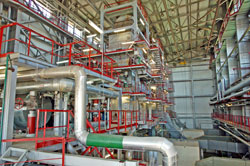 From the end of 2017 to the middle of 2018, Uralkali conducted another energy audit. According to the audit results an energy passport of the enterprise and a draft energy saving programme for 2019Ė2023 were prepared.
Targeted funding of energy saving measures was provided in 2018.
In the reporting year, 20 frequency converters were put into operation, over 3,000 light fixtures were replaced for energy efficient more than 9,000 meters of pipelines were repaired with the replacement of thermal insulation, and 205 valve blankets were installed.
Target indicators in relation to fuel and water saving were achieved in full. Uralkali is considering the possibility of awarding staff members of the production facilities that reached the established indicators.
In 2018, the actual amount of generated electricity decreased by 5% compared to 2017 and totalled 324.85 million kWh. The reduction in generation was due to the scheduled overhauls of generating equipment.
The volume of electricity consumption in 2018 saw an increase compared to 2017 due to putting new equipment in operation.