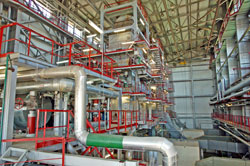 Upon the results of the energy audit as of 29 December 2012, Uralkali's Energy Saving Programme was approved, which included a system of organisational and engineering measures aimed at reduction of energy resources consumption. The programme implementation started from arranging the work of energy saving committees and the incentive system development. Investment projects with the expected completion dates in 2017–2018 were initiated.
In 2017, the main focus was on the energy saving organisational events and implementation of engineering measures of previous years was accomplished. Allocated budget for energy resources was not exceeded. Uralkali completed the work on project documentation for previously initiated projects. In 2017, the actual amount of generated electricity decreased compared to 2016 and totalled to 343 million kWh. Reduce of generation due to the scheduled overhauls of generating equipment.
Uralkali, together with its subsidiaries and affiliates incorporated in the Russian Federation, consumed 6.66% of electric energy, and 3.91% of fuel more than in 2016. Increase of energy resources consumption resulted from production volume growth.