Uralkali's commitment to global best practice ESG standards underpins the Company's strategic priorities and is an integral component of Uralkali's business strategy. In December 2020, Uralkali's Board of Directors approved the Company's ESG Strategy for the period up to 2025. Within the new framework, the Company has identified 10 priority ESG areas, which form the basis of the Strategy.
In its pursuit of sustainable development, the Company has for many years focused on 7 fundamental ESG areas. Under the new framework, the Company has incorporated 3 additional ESG focus areas in order to adapt to evolving global sustainable development trends. The 3 additional priority areas, so called New Challenges, are climate change, sustainable agriculture and responsible supply chain, and the Company will pay close attention to the development of these areas as part of its ESG Strategy.
By implementing various initiatives as part of the new focus areas in the Company's Strategy, Uralkali will be actively supporting and contributing to the achievement of the following UN Sustainable Development Goals: Goal 13: Climate Action,Goal 2: Zero Hunger,Goal 12: Responsible Consumption and Production.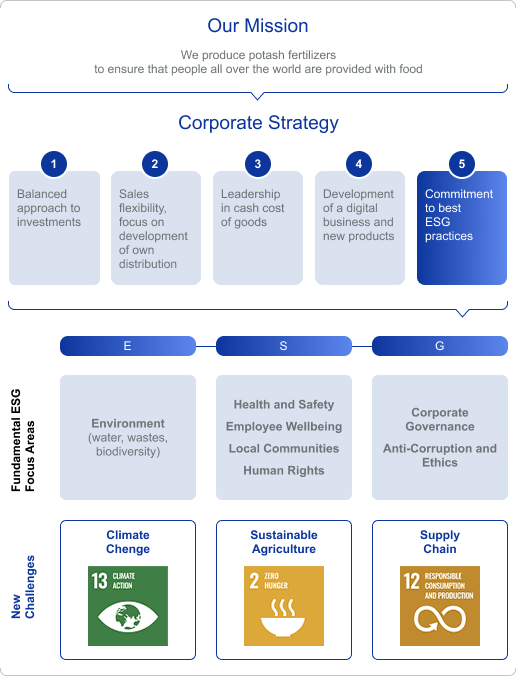 ESG Goals
Under Uralkali's ESG Strategy to 2025, the Company has established measurable ESG targets to track the progress of the Strategy's implementation. As a result of work done in 2021, the ESG strategy was enhanced and the list of ESG targets was supplemented with new targets.
Targets of ESG Strategy 2025

(467 ęÁ)