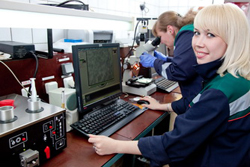 Having highly skilled and committed employees is the key to maintaining effective and sustainable business processes. Therefore, we pay special attention to securing the involvement, satisfaction and loyalty of the staff. Developments in this area are undertaken based on the results of sociological studies which the Company conducts annually among the current and potential employees.
Uralkali has a strong focus on safety. In 2012 we issued the Cardinal Rules which are mandatory for the Company's and contractors' employees. Innovative protection equipment and warnings of possible hazards are also being introduced regularly into the manufacturing process.   
Our team consists of skilled and intelligent workers, professionals with thorough knowledge and love for their work. Uralkali offers a competitive salary, social benefits and many opportunities for professional growth and career development.
Staff relations are systematised in accordance with the long-term strategy of the Company and legislative requirements.
For them, we create modern and comfortable working conditions, offer competitive and stable salaries, one of the best benefits packages in the industry, special attention to occupational safety and health protection.
increased productivity
development of managerial skills to ensure the stability of the management team
maintaining favourable working conditions to ensure the protection of life and health of personnel
USD 12.868 — the average annual salary (based on 2015 results) in the main production unit (including annual bonuses)
42 668 training avtivities
up to 70% — reimbursement for meals
100% — compensation of ski centres costs
50% — compensation of the swimming pool costs
up to 35% — compensation of sports centres costs
2.56 million US dollars — the Company's expenses for the transportation of workers to and from work place in 2017
The corporate programme — repayment of interest on loans for the improvement of living conditions
The Collective Bargaining Agreement of Uralkali is one of the best in the industry and highly rated by the Perm regional trade union organisation of Rosikhimprofsoyuz
Uralkali launched the biggest Corporate University in the potash industry — 250 academic programmes, 467 teachers, 20 000 students per year, more than 3 thousand sq. m. of educational space)
A number of projects aimed at personnel development — the "Talent Pool", the "Foreman's Academy", the "Supervisor's Academy", the "Coaching and Facilitation Institute" and a training programme for future mid-level managers
Construction of corporate facilities: a children's recreation camp, a health centre, a swimming pool, a sports centre, a ski centre, a cultural and business centre
Cooperation with the relevant universities and colleges — over 100 graduates join the Company each year