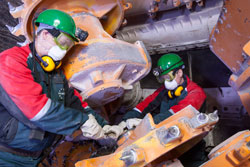 Absence of fatalities, incidents, accidents and occupational diseases is one of the most important tasks of the Company. We recognise our responsibility not only to employees but also to their families and society as a whole.
Therefore, we strive to create the most comfortable and favourable working conditions. However, achieving a zero accident rate is only possible if each worker adheres to safety rules.
Safety is one of the key elements of our Code of Corporate Culture:
Safety is an unconditional value that must be an integral part of any action or decision. We understand that careless, thoughtless and irresponsible actions may have tragic implications not only for ourselves and our colleagues, but also for our families and friends. No achievement or economic benefit can justify loss of life or damage to a person's health.
Absence of industrial accidents
Prevention and reduction of occupational diseases amongst employees
The rate of accidents at work with temporary disability (LTIFR) in the Group of Companies in 2018 is 0.08%
The number of incidents increased from 4 in 2017 to 13 in 2018
The lost days rate (LDR) was 8.3.
In 2018 one emergency was recorded at PJSC Uralkali. There were no incidents at PJSC Uralkali's operational sites in 2018
During 2018, 11 topics on the Iniviative programme were implemented, 23 employees were awarded for active participation
In 2018, the labour safety management corporate system was certified for compliance with the state regulatory requirements and with the international standard OHSAS 18001-2007. The validity of the OHSAS certificate has been extended to 2021
17 448 employees were trained and certified in the field of labor protection, industrial safety, civil defense and emergency prevention and fire safety
Uralkali continued training and assessment of the mine rescue crew (MRC) members at the Berezniki-2, Berezniki-4, Solikamsk-1, Solikamsk-2, and Solikamsk-3 mines in the reporting period. More than 225 MRC members were trained periodically and initially, 16 of them were mine workers who received the status of rescuers for the first time
In 2018, the certificate of the Industry Attestation Commission of the Ministry of Industry and Trade of Russia on certification of more than 60 gas rescuers among Company employees (non-professional emergency response team) was obtained