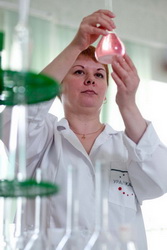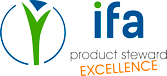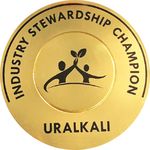 We pride ourselves in supplying our customers with the highest quality product and ensuring that our goods meet the best international and Russian quality standards. We place the utmost importance on continuously improving our product quality by implementing comprehensive quality control measures across the entire cycle of the technical and production process.
Dedicated Laboratories of Research and Product Quality Control operate at Uralkali's operations, which are certified by the Russian State Standard. The Quality Control Department analyses the entire production process: from the initial inspection of the reagents, raw materials, and supplies to the quality control of final products to be dispatched to our customers. The results of this analysis are promptly transmitted to the processing mills and provide all the necessary information required for any potential process correction.
In 2019, Uralkali received IFA Product Steward Excellence recognition as part of the International Fertilizer Association�s (IFA) international Protect & Sustain certification. This certificate confirms excellent management of all stages of the production, transportation and sales of potash fertilizers, as well as a commitment to best practices in production safety and the ecological sustainability of all products.
Uralkali has been recognized as an Industry Stewardship Champion by the International Fertilizer Association (IFA), for the Company's outstanding achievements in product stewardship and confirmed its industry leadership status in 2021.
Quality management system of Uralkali is certified for compliance with international standard ISO 9001:2015.
If you suppose that delivered products do not meet the standards established in the contract please act in accordance with recommendations of "Claim procedure" section.
Cannot find 'file_buyers' template with page ''