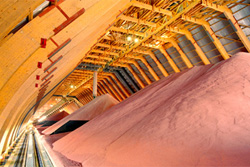 Uralkali is one of the world's largest producers of potash, which can either be applied directly to soil to increase its fertility or mixed with nitrogen and phosphate to produce compound NPK fertilisers. Additionally, potash is frequently applied for industrial needs in various sectors, including oil production, metallurgy etc.
We have access to the second largest reserve base globally, the Verkhnekamskoye potassium and magnesium salt deposit, where Uralkali extracts ore at a depth of approximately 400 metres. The ore we extract contains between 25% to 35% Muriate of Potash (MOP).
As a result of enrichment, mineral stock, which is a natural mixture of commercial component (MOP) and other substances (mainly sodium chloride and sludge), is transformed into concentrate, a finished product which is over 95% MOP.
The production process at Uralkali does not only strictly comply with best in class global standards but also satisfies the requirements of our diverse customer base.
To ensure this, Uralkali regularly monitors all of the quality indicators as well as constantly capturing customer satisfaction, which contributes to building long-term relationships with both domestic and international clients.
Warning notice to existing and potential buyers of Uralkali products

Dear customers!

In connection with the increase in the number of cases involving the sale of potassium chloride products under the guise of Uralkali, in case of doubt about the origin and quality of the purchased products, we recommend contacting the Uralkali Call Centre. The Company staff will assist you in verifying the authenticity of the information and documentation (sales contract, bill of lading, quality certificate for a batch of goods) provided to you by the seller for the products offered for sale.

Products of guaranteed quality can be purchased directly from Uralkali, or from any counterparty possessing direct supply contracts with the Company. For a list of these counterparties, please click here.

We also inform you that Uralkali has no contractual relationships with the following companies. We cannot guarantee that the products offered by the companies on this list are manufactured by Uralkali.

Export

Uralkali hereby informs you that foreign consumers of our products (both from far abroad and CIS countries) have repeatedly complained about the very poor quality of such products. In the course of several inspections, we have established that in all cases, deliveries were made from companies that did not have contractual relations with the Company, and consumers were provided with forged documents for the products. These products were not produced at the production facilities of Uralkali, and it was not possible to establish their origin.

In this regard, we would like to stress that the only company supplying products manufactured by Uralkali outside the Russian Federation is Uralkali Trading SIA.

Document
Download

List of the companies signed direct contracts with Uralkali on sales of the Company's products

(290 KB)

List of the companies with no contract relations with Uralkali

(162 KB)

List of the companies signed direct contracts with Uralkali on sales of the Company's products

(16 KB)

List of the companies with no contract relations with Uralkali

(13,1 KB)