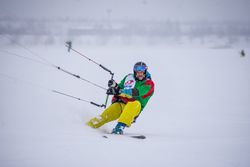 The 13th Snowkiting Championship of Russia dubbed 'Stroganov Mile 2022' is held from 3 to 6 March 2022 in Usolye (Perm Region, Russia) with support from Uralkali. The championship gathered around 50 athletes from Russia and neighbouring countries. The event includes Round 2 of the Russian Cup for freestyle and course racing categories, and the inter-regional Junior Cup for athletes under 15.
Organizers of the event offer free masterclasses in snowkiting for all visitors. Also, exhibitions are arranged in the Stroganov Chambers, Bragin's House and the House of Golitsyn Museum. Indoor activities are supported by outdoor playgrounds and fairs. In accordance with national regulations, necessary COVID-19 precautions and safety measures are in place at all main and support events.
Andrey Silayev, Uralkali Security Director, commented:
Uralkali is an active supporter of professional and amateur sports in Berezniki and Solikamsk. An important element of our activities is to create conditions to involve young people in fitness and sports. The 'Stroganov Mile' has become an amazing tradition and a highly anticipated event for professional and amateur snowkiting athletes.
Reference
Uralkali has allocated around RUB 3 million for the development of snowkiting in Berezniki. In addition to the 'Stroganov Mile', Uralkali supports other events in Usolye including the 'Chimes of Russia' international festival, the 'Stroganov Regatta' sailing competition, and the 'Stroganov Verst' equestrian contest.