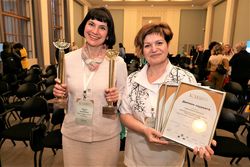 The results of the 4th national contest of corporate museums were announced on 26 May at the VDNH EXPO in Moscow. The event was supported by the Ministry of Culture of the Russian Federation, the Russian PR Association, and the Russian National Committee of the International Council of Museums. In total, 126 projects representing 62 corporate museums from Russia were submitted for an expert assessment.
Uralkali Museum and Exhibition Centre was a runner-up in the Discovery of the Year nomination and became the winner in two categories, Development of the HR Potential and Public Recognition. The latter category was the only nomination where anyone could give their vote to the most interesting project. This year, the fan vote attracted around 30,000 people.
Irina Konstantinova, Uralkali Head of HR and Communications, commented:
It is extremely important for us to preserve the history of the unique Verkhnekamskoye deposit of potassium and magnesium salts and of the whole potash industry of Russia for future generations. It is therefore not surprising that our museum and exhibition centre goes beyond regional extent and is a true national heritage site. This museum is not just an extraordinary exhibition but also a modern multimedia centre, a career guidance hub for school and university students, and a strong centre of attraction for residents and visitors of the Perm Region.
Reference
The Museum and Exhibition Centre of Uralkali is a unique venue combining exhibition sites in Berezniki and Solikamsk and is the only facility of such kind in Russia fully devoted to the history of the Russian potash industry.
The museum in Berezniki was opened in 1993 and renovated in 2013. Spread over 524,000 m2, this exhibition features collections of surveying and geological equipment, paleontological and geological collections, historical documents, and multimedia and virtual reality models.
The Solikamsk museum was also opened in 1993 and then renovated in 2021. The exhibition space covers 450,000 m2 and offers 23,000 exhibits including 1,000 unique artefacts, six dioramas and installations, and 20 multimedia complexes.
Uralkali (www.uralkali.com) is one of the world's largest potash producers and exporters. The Company's assets consist of 5 mines and 7 ore treatment plants in the towns of Berezniki and Solikamsk (Perm Region, Russia). Uralkali employs more than 12,000 people in the main production unit.