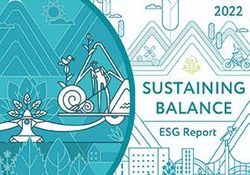 Uralkali (the Company), one of the world's leading potash producers, published its 2022 ESG Report themed "Sustaining Balance". The document can be found here.
The Report presents an overview of Uralkali's key sustainability results and further plans to develop ESG practices within the organisation. A focus is made on food security and the significant role of potash fertilisers.
The document was prepared in accordance with reporting standards of the Global Reporting Initiative (GRI) and the Task Force on Climate-Related Financial Disclosures (TCFD), and was verified by an independent organisation.
Uralkali's progress on the key elements of the ESG agenda in 2022:
Employee well-being
An employee well-being programme for 2023-2025 was developed
Employee salaries were indexed by 6%
The voluntary medical insurance programme was expanded
Employee engagement scores went up by 6%
Health & Safety
A lock-out / tag-out safety system was implemented at four mines
Calculation of LTIFR among contractors was introduced
Preparation for ISO 45001:2018 certification continued as scheduled
Environmental responsibility
Environmental expenditures totalled RUB 7.7 billion
The biodiversity assessment was finalised
A water audit began
Implementation of the energy saving programme continued
Development of the region of presence
RUB 1.1 billion was spent on developing the region of presence
All scheduled sports, healthcare, educational, cultural, infrastructure and amenity projects were implemented
Sustainable agriculture
7,725 farmers enrolled in educational programmes
A campaign began of charity shipments to the developing countries
Sustainable supply chain
An ESG assessment of suppliers began, and 13% of suppliers successfully passed the assessment in 2022
Elena Eskina, Uralkali Chief Sustainability Officer:
We continued developing our ESG practices in 2022 and achieved notable progress in all elements of the ESG agenda. Health & safety, employee well-being, development of areas of our presence, environmental and geological safety — these aspects will always be Uralkali's priorities irrespective of external factors.
Uralkali (www.uralkali.com) is one of the world's largest potash producers and exporters. The Company's assets consist of 5 mines and 7 ore treatment plants in the towns of Berezniki and Solikamsk (Perm Region, Russia). Uralkali employs more than 13,300 people in the main production unit.