Employee Development

Talent Pool
Employee Development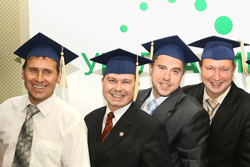 Uralkali's highly-skilled employees are the foundation for our future growth. This is why the Company is committed to ongoing improvements in staff training. Thus Uralkali works closely with higher education institutions and funds specialist training for its employees.
Uralkali's employees improve their qualification in leading educational institutions, attend professional conferences and seminars, as well as special corporate programmes. The Company maintains a talent pool and implements a development programme for the employees included in the pool. The programmeis aimed at preparing the employees for promotion, as well as providing additional training for their current positions in order to boost their professional growth potential. In 2013 over 1,000 employees received corporate training in the Company's Training Centre, over 200 employees received advanced training and basic courses in management, in 2014 145 employees became participants of the Talent pool programme for line managers, 137 Talent pool participants from mid-level and top-management are completing training according to individual plans.
Talent Pool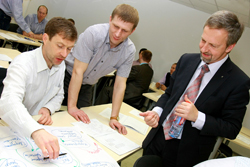 Since 2003, Uralkali has maintained a talent pool for managing positions at different levels within the Company. These candidates are selected from the managers based on their knowledge of the business, managerial experience and expertise.
The development programmes offered to the talent pool candidates provide an extensive grounding in business processes and advanced approaches to enterprise management, as well as allows the employees to further develop their management skills. 8.3% of talent pool participants were promoted in 2014.
The participation of managers from various levels and divisions in the programme facilitated the enhancement of internal communications and knowledge sharing, further improving the overall management of the Company.